Tickets
Ticket prices vary by production. Credit card sales via phone will have an additional $3.00 per order fee. (This means if you order 1 ticket or 12 tickets, it's just a $3.00 addition.) Ticket sales through the Web site do not have the $3.00 fee, but have a separate service fee which is calculated upon checkout.
3 Easy ways you can order your tickets by:
On-line Box Office


Telephone - Call the Goshen Players at (860) 491-9988.
If there is no one available to take your call, please leave a message and a volunteer will return your call. Please note that tickets can only be held when payment is received.

Mail - Mail your ticket request to Goshen Players, Inc. attn. Ticket Purchase, P.O. Box 63, Goshen, CT 06756-0063. You will receive a confirmation call within one week.
Please note that this method is not recommended!
Please note the following:
All tickets are held at the box office and *must* be picked up no later than 15 minutes prior to the event. The theater box office is open to the public one hour prior to the performance and doors open 30 minutes prior to the performance. Due to the intimate nature of the theater and in consideration of all patrons, late comers will be seated at a suitable break in the performance. Ticketed seat locations are not guaranteed past curtain time.
Tickets are only held when payment is received.
We accept Visa and Mastercard only. We do not take American Express.
Checks can be made payable to "Goshen Players, Inc."
All ticket sales are final. There are no refunds or exchanges.
Tickets are held at "Will-Call."
Theatre doors open 30 minutes before show time.
All ticket purchases must have a confirmation number for your ticket purchase. This number can be found on your e-mail confirmation page. Please bring your confirmation number with you.
Group Sales (Telephone, email or mail only. This offer is not available through our on-line box office.)
Groups of 10 or more are entitled to a discount of $2.00 off each ticket.
Order 20 or more tickets over the course of a production run and receive the group sale discount. If you have any questions or need more information please contact us.
Phone (860) 491-9988 or email goshenplayers@yahoo.com.
Group tickets must be purchased at one time and paid for in advance. Group tickets must be purchased through the box office in order to receive the discount. This offer is not available through our on-line box office. No returns or exchanges.
Performance Sponsorships
Goshen Players upholds our tradition of philanthropy through our Performance Sponsorship program. Not-for-profit organizations are invited to apply to sponsor a single performance, and earn as much as half the receipts for that performance for their own benefit. For full details on Performance Sponsorship, contact us at goshenplayers@yahoo.com.
Seating chart (Cabaret style):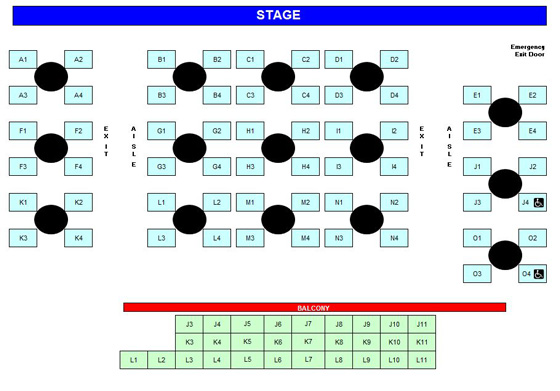 Seating chart (Straight Seating):