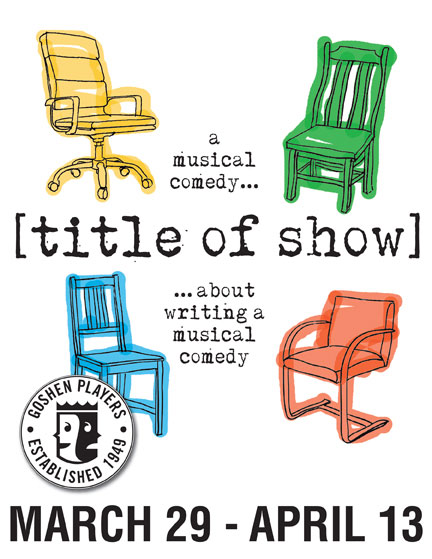 Goshen Players, Inc, will be holding open auditions for its Spring 2019 Musical, [title of show] with book by Hunter Bell and music and lyrics by Jeff Bowen. The production will be directed by Colleen Renzullo, with co-direction by Jane Coughlin and Musical Direction by Scott Stanchfield. Auditions will take place on Sunday, January 13th, 2019 and Monday, January 14th, 2019 from 7pm – 9pm with callbacks (if needed) Thursday, January 17th from 7pm – 9pm at the Goshen Old Town Hall, 2 North St., at the Rotary Junction of Rts 4 & 63, Goshen, CT 06756.
If you would like to audition but cannot make the scheduled times please contact the Director to make alternate arrangements.
Production dates are March 29, 30, April 5, 6, 12 and 13 at 8:00 pm and March 31 and April 7 at 3:00 pm
Seeking 2 men and 2 women ages 25-40. All Roles are Available for Audition.
Jeff – the show's composer, a Broadway enthusiast. (Vocal range: G below middle C – top B)
Hunter – musical's book writer; dreams about making it to Broadway and winning a Tony Award. (Vocal range: G below middle C – top B)
Heidi – Moved to New York to pursue her dreams of being an actress and out of the four friends has the most Broadway experience (ensembles and understudying lead roles); the 'new girl' of the group. (Vocal range: F below middle C – high G)
Susan – quirky and kooky; a 'Downtown' artist who portrays the reality for many in the performing arts industry, maintaining a day job to support her artistic endeavors. (Vocal range: F below middle C – high G)
Please be prepared to sing at least 32 bars of a song which demonstrates your vocal range, providing marked sheet music for accompaniment. Auditioners will also be asked to read from the script.
Rehearsals will be scheduled based on the availability of the actors and the Directors. Attendance will be required at rehearsals on 3/24, 3/25, 3/26 and 3/27 with absolutely no exceptions.
About [title of show]: Jeff and Hunter, two struggling writers, hear about a new musical theatre festival. However, the deadline for submissions is a mere three weeks away. With nothing to lose, the pair decides to try to create something new with the help of their friends Susan and Heidi with Larry on the keyboards. With the cast in place, Jeff and Hunter begin a conversation about what to write. Eventually, Jeff suggests they write about what to write about. They make a pact to write up until the festival's deadline and dream about the show changing their lives. [title of show]--taken from the space on the festival's application form which asks for the [title of show]--follows Hunter and Jeff and their friends on their journey through the gauntlet of creative self-expression. In the span of 90 minutes they write and perform their show at the festival and learn lessons about themselves as people, friends and artists. [title of show] is, above all, a love letter to the musical theater: a uniquely American art form--and to the joy of collaboration. The musical received a Tony Award nomination for Best Book of a Musical in 2009.