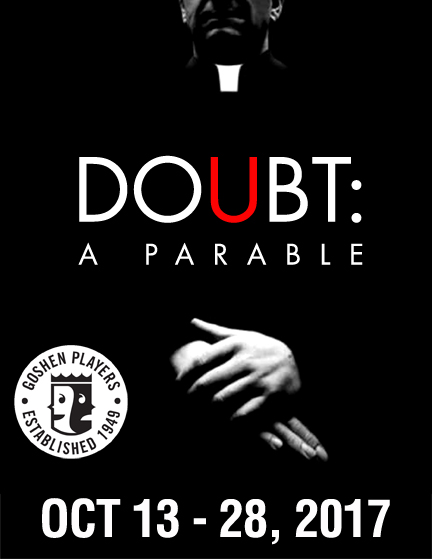 DOUBT: A Parable
by John Patrick Shanley


October 13 - October 28, 2017

Did he or didn't he? Where's the proof? A seed of doubt is sown. Winner of the Pulitzer Prize and Tony Award for Best Play, Doubt is a mesmerizing, suspense-filled drama that will keep you on the edge of your seat. Sister Aloysius Beauvier believes in restraint, self-control and a rigid dedication to discipline. When she learns Father Flynn has taken a special interest in a troubled altar boy, she becomes suspicious of his progressive, engaging attitudes. Something must be done.
Volunteering Opportunities

Goshen Players is always looking for volunteers to help with productions. There are many areas in which you can become involved. Currently we are looking to fill some key positions; like House Manager and a few other roles. Please contact for more information. Call (860) 491-9988 or email us at goshenplayers@yahoo.com.